News
Posted by Emily Stringham on
We are pleased to announce that we have placed an order for the first new batch of Larkin & Smith patterns! Many of you have asked which sewing patterns will be back in stock and when. We are starting small by re-releasing two of the most popular Larkin & Smith patterns; the English Gown and the Front and Back Lacing Stays. Multiple sizes will be in stock. There will be an announcement once they have been added to the website. (Should be before the end of the month!)      We are planning to restock additional patterns early next year...
Posted by Emily Stringham on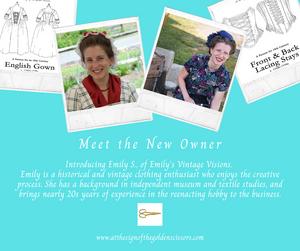 We are pleased to announce the sale of the Larkin & Smith pattern line and At the Sign of the Golden Scissors sutlery to Emily Stringham of Emily's Vintage Visions. We had decided to sell the pattern line a while ago but wanted to make sure that it would stay "in the family" and be in capable hands. Emily has taken almost every workshop we ever offered and is a skilled seamstress and accomplished historical researcher. We can't imagine a finer person to have sold the business to. -Hallie & Steph  
Posted by hallie larkin on
At the Sign of the Golden Scissors our goal is to provide the most accurate goods for the 18th century re-enactor, whether on the field or in a museum setting. Compromises are kept to the restrictions of modern goods and fabrics. Handsewing is always the preferred method of clothing construction, but out of the reach price wise of most. Our concept is to provide precut kits and patterns, that allow you to do the sewing and let us concentrate on finding the right fabrics and teaching you how to make the item. Patterns are coming this month for sleeve ruffles...
---