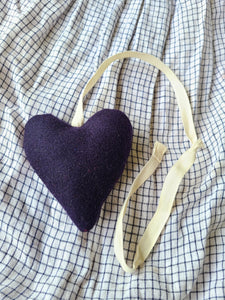 18th Century Wool Pin Cushions - Dark Blue
An essential part of every sewing kit.

Heart and square shaped pin cushions were popular throughout the 18th century and are seen in several period paintings and prints. Squares are commonly seen in the 1730s and 1740s while hearts show up more frequently in the 1750s to 1770s.

These pin cushions are made from 100% wool broadcloth with cotton twill or linen ties to attach to your apron strings. Larger squares measure approximately 4" to 5". Small square is about 3". Colors and size, heart shapes vary slightly.